The Department CBI at a glance
About us
The Department of Chemical and Biological Engineering (CBI) is one of six departments at the Faculty of Engineering of FAU.
The two foundational pillars of the department are chemistry and biology, both of which are present everywhere in our everyday lives for instance in nutrition, energy and energy supply, medicine, pharmaceuticals and all types of production processes. The Department CBI is thus well-poised to tackle current social challenges ranging from energy to lifestyle, process safety to bio-processing up to process-up-scaling and has close ties with nationally and internationally renown research institutes such as the Helmholtz-Institute Erlangen-Nürnberg, the Fraunhofer Institute for Environmental, Safety and Energy Technology and the Energie Campus Nürnberg among others.
Eleven chairs with approximately thirty professors, hundred and fifty research fellows and one thousand five hundred students are affiliated with the department over the course of an academic year.
The department is highly interdisciplinary and contributes to numerous local, national and international collaborative projects in both academia and industry. Thus ensuring that the students of our department receive an outstanding applied and practice-oriented education at a top international level in a research field represented by high-ranking scientists.
The department is running five undergraduate and graduate programmes (Chemical and Biological Engineering, Chemical Engineering – Sustainable Chemical Technologies, Clean Energy Processes, Life Science Engineering and as a coordinator Energy Technology) and two English-language elite Master's programmes (Advanced Materials and Processes and Advanced Optical Technologies). These programmes are directly linked to our research.
Pioneers in chemical engineering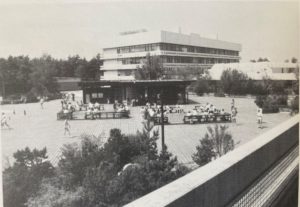 Historically, the nucleus of the Department was laid as early as 1965 with the appointment of Prof. Hanns Hofmann to the Chair of Technical Chemistry I. At that time the Faculty of Engineering (TF) had not yet been founded.
The first degree programme in chemical engineering in Germany as such was modelled by Prof. Hanns Hofmann, which was quickly adopted by other universities.
In the following years five more chairs covering the basic areas of chemical engineering (mechanical process engineering, separation technology, fluid dynamics, process machinery and systems engineering, and technical thermodynamics) followed until 1989. With the expansion of the department to include bioprocess engineering in 2002, the research and teaching area was rounded off.
To strengthen the teaching and research profile of the Department, three additional chairs (Multiscale Simulation, Medical Biotechnology, and Energy Process Engineering) were established from 2009 to 2011.
Successes and expansion
The successful reasearch activities have led to the forming of regional and national research networks (DFG funded projects), the implementation of excellence clusters (EAM – Engineering of Advanced Materials), collaborations with industry and the establishing of non-university research institutes (HI ERN, Fraunhofer Institute UMSICHT).
With the recent implementation of the assistant professorships for Catalytic and Electrocatalytic Systems and Processes and Distributed Energy Process Engineering (both added in 2020) the department has been able to further its advantage in key research areas once more and continues to be at the helm of innovation in its field.
Chairholders and chairs since foundation
Chair of Chemical Reaction Engineering

Prof. Peter Wasserscheid
Prof. Gerhard Emig 1992 – 2003
Prof. Hanns Hofmann 1965 – 1992

Chair of Separation Science and Technology

Prof. Matthias Thommes
Prof. Wolfgang Arlt 2004 – 2019
Prof. Rudolf Steiner 1988 – 2004
Prof. Sigfried Peter 1968 – 1988
Prof. Rudolf Steiner 1988 – 2004

Chair of Particle Technology

Prof. Wolfgang Peukert
Prof. Otto Molerus 1968 – 2002

Chair of Process Machinery and Systems Engineering



Prof. Eberhard Schlückher 2000 – 2022
Prof. Gerhard Vetter 1980 – 2000
Prof. Eberhard Klapp 1974 – 1979

Chair of Fluid Mechanics

Prof. Andreas Wierschem
Prof. Antonio Delgado 2006 – 2022
Prof. Franz Durst 1982 – 2006
Prof. Gustav-Adolf Euteneuer 1977 -1980

Chair of Engineering Thermodynamics

Prof. Stefan Will
Prof. Alfred Leipertz 1989 – 2014

Chair of Bioprocess Engineering

Prof.

Kathrin Castiglione

Prof. Rainer Buchholz 2002 – 2016

Chair of Multiscale Simulation of Particulate Systems
Umweltverfahrenstechnik und Recycling
Today: Chair of Medical Biotechnology

Prof. Oliver Friedrich
Prof. T. Neese 1992 – 2005

Chair of Energy Process Engineering
Chair of Advanced Optical Technologies – Thermophysical Properties
Erlangen Center for Interface Research and Catalysis
Junior Professorship for Decentralized Energy Process Engineering

Prof. Katharina Herkendell

Junior Professorship for Catalytic and Electrocatalytic Systems and Processes
Helmholtz Institut Erlangen-Nürnberg for Renewable Energies

Prof. Peter Wasserscheid
Prof. Karl Mayrhofer
Prof Jens Harting
Prof. Simon Thiele

Fraunhofer UMSICHT Institute Branch Sulzbach-Rosenberg