Creating a sustainable environment at FAU
The Department of Chemical and Biological Engineering
Sustainability is an important topic that the Department of Chemical and Biological Engineering as a part of FAU deals with on all levels – from research and education on sustainability topics to decisions of every day life like the use of sustainable products such as pens, coffee or saving energy and paper. The topic concerns the department, teachers, researchers, staff and students.
Initiatives in everyday life
FAU was again certified as fairtrade university (April 2021).
The Studentenwerk Erlangen-Nürnberg which runs the cafeterias and canteens of FAU has adopted various paths of action to help all members of FAU to contribute to a sustainable and environmental friendly future.
For instance a CO2 footprint label is used to show dishes which are good for one's own CO2 footprint and have been made using climate-friendly energy. The coffee in all cafeterias and canteens is fairtrade and many articles and items are fairtrade or from regional producers.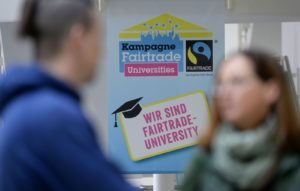 At the FAU level
In 2022 FAU has appointed Prof. Fifka as the Sustainability Officer and charged him with the drawing up of a holistic sustainability strategy that encompasses all strategic fields of FAU. The aim of which is to put into place a strategized sustainability approach across all of FAU.
FAU has set up the Green Office with the goal of supporting its commitment to making a positive impact in environmental sustainability and climate protection.
FAU is also part of the Netzwerk Hochschule & Nachhaltigkeit Bayern, a network dedicated to foster sustainability at the Bavarian universities.